A few weeks ago my wife and I went to the exhibit of Frida Kahlo, Diego Rivera, and other modern Mexican artists at the Frist Art Museum. It was pretty cool seeing some of Kahlo's works in person. Until now I'd only seen reproductions in books and reproductions, no matter how good, don't give any sense of the scale that you get when standing in front of the original, or the connection to the artist's hand. And yet I wondered, what could I say about Kahlo, or Rivera, that hasn't already been said by experts? I only took a few pictures—and in fact I was surprised I could since most museums don't allow visitors to take pictures, maybe because they want you to buy the ones in the gift shop—because I was so focused on the paintings themselves.
To get back to that question of what I could say, after we went to the exhibit I read about a long distance runner who plotted out a run to draw a picture of Frida Kahlo using San Francisco city streets. And last December the city–excuse me, The City, as San Francisco, or "Frisco" prefers to be known–changed the name of Phelan Avenue to "Frida Kahlo Way".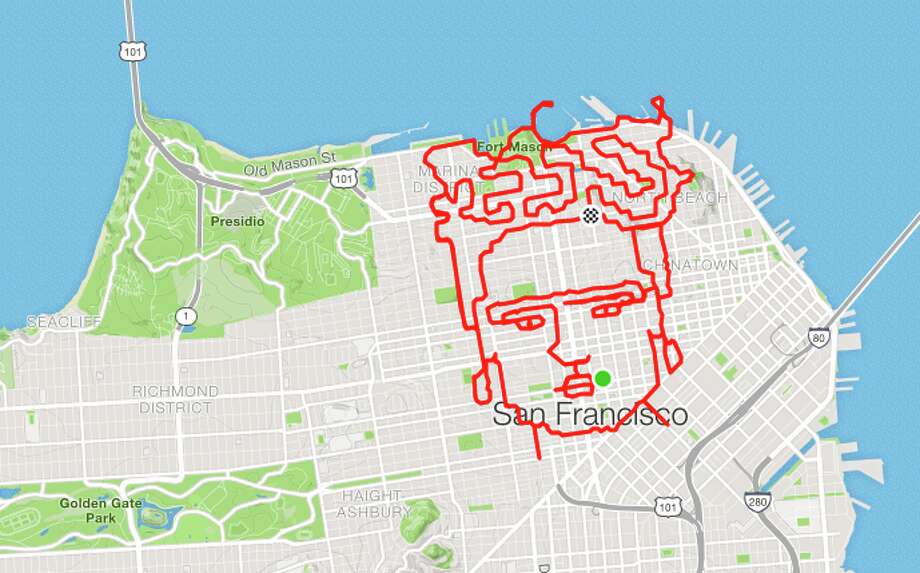 It was funny and reminded me that one of the explanatory placards for the Frist exhibit said that it Frida Kahlo were alive today she'd be "puzzled" by her status as an international pop icon. Yeah, I don't think so. It's true that Kahlo has gone from being a well-known artist in Mexico, but hardly known outside of it, during her lifetime, to one of the world's most famous and popular artists, even the subject of the terrific movie Frida starring Salma Hayek and directed by Julie Taymor, but during her all too brief life, even before she became known as a painter, she carefully cultivated her image—including that unibrow, which she emphasized with makeup. The exhibit even included a selection of Mexican dresses Kahlo wore, all with deep cultural meanings, and her paintings are often heavily layered with deeply personal symbolism. A funny thing my wife said was, "She was really beautiful, why did she make herself so ugly in some of her paintings?" There are a lot of possible answers to that—Rivera's unfaithfulness and the bouts of extreme pain she suffered throughout her life might have made her feel ugly. She also had a wonderful sense of humor and I think that's part of it too.
I may not be an expert but I don't think the right word for for Frida Kahlo would feel about the symbol she's become would be "puzzled". I think the right word would be amused.
Facebook Comments