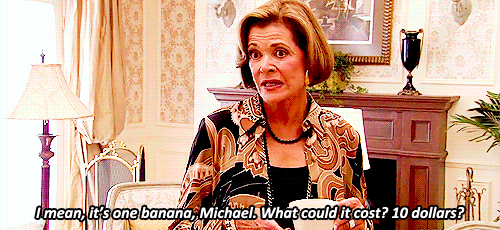 Most mornings I start the day with a banana. Well, technically I start the day by waking up, and usually waking up half an hour early because the mornings are getting lighter as we get closer to the summer solstice and the dogs think that means they can get up and have breakfast sooner. With some convincing they lie back down until it's at least close to the time when the alarm goes off, and I've realized one of the disadvantages of digital clocks is they're so easy even dogs can tell what time it is, but that's another story. Then after the dogs have had their breakfast and I've showered and pulled on yesterday's jeans and, if I have a meeting, a t-shirt that looks like a dress shirt, and then I have a cup of coffee and a banana, and I just realized I get a surprising amount done before I've had my morning coffee. I was just never conscious of it before because it all happened before I'd had my morning coffee. And then about an hour later the coffee and banana hit the lower plumbing and things really get going, but I won't go into that.
I started thinking about this when I heard about a woman in Scotland who left a banana in her desk when her office, and the rest of Scotland, went into lockdown on March 24th. And when her office reopened she admitted she was dreading going back to work because she knew the banana, or whatever was left of it, would be waiting for her. She even made a TikTok video of the reveal, which showed a lot more foresight that I would probably would have had, even if I'd had my morning coffee. And her office must be pretty dry because it just mummified, and could easily be made into banana chips, which I've sometimes enjoyed snacking on while at work. I have never, however, left a banana in my desk. And this tells me the Scotland lockdown was more total than the lockdown where I live. My coworkers and I have been kept appraised of how maintenance guys have patrolled our building, even though it's off limits to regular workers, and even in the first week of the lockdown we could make arrangements to come into the office, briefly and in limited numbers, to get anything we needed, and if I'd left a banana in my desk I'd be first in line.
It also reminded me of a day several years ago when I got to work and realized I'd left a DVD I'd checked out from the library at home. It was a Friday and it was due back that day, and the library's fine for overdue DVDs was two bucks a day. It was also a holiday weekend and the library would be closed, but the fine would still accumulate. And I'm not sure why they call it a fine since it's anything but fine. It's not even Larry Fine. Since my wife had the car I went out on my lunch break and hopped on the bus home, with a note to my boss that I'd probably be taking a longer than usual lunch.
If I'd had the car it probably would have taken me an hour to walk to the parking garage, drive home, get the DVD, and drive back. Fortunately the middle of the day was prime time for the bus schedule and I was able to hop on one quickly. I then ran home, grabbed the DVD, and got the same bus going back. The whole trip only took two hours, which was fine, and I got the DVD dropped off, although when I came back to work the following Tuesday I found I'd left a banana in my desk.
Facebook Comments